A Busy July So Far…
It's been a busy July so far and we can't believe we aren't even half way through the month yet!
Firstly the white water course reopened on Wednesday 3rd July with lots of happy paddlers returning to try out the new course layout with lots of exciting and different challenges for everyone to tackle.
On Friday 5th July we hosted the Annual Mayor's Duck Race in aid of raising money for the Armed Forces! Tees Active had there very own corporate duck competing as well as 2 smaller individual ducks. There were lots of spectators including a couple of school groups that came down to watch the little ducks race after they were launched from the bridge at the top of the course. There were 10 overall winners of the little ducks and 4 corporate duck winners! The first place corporate duck was Suez – Sita Tees Valley who won a white water rafting experience for 6 people! Unfortunately Tees Active's ducks didn't fare too well though!
The following day the sun shone and more crowds flocked to Tees Barrage but this time for the Annual Daisy Chain Bellboating Regatta. A large number of teams composed of 8 eager paddlers took to the flatwater lake in a series of heats battling for their places in the semi finals. This was a great day full of competitive fun with Team HOOLA OOPS being crowned the winners. Along with a lot of pride and raising lots of money for a great cause the winning team also received a white water rafting experience each to be used here on our Olympic standard white water course.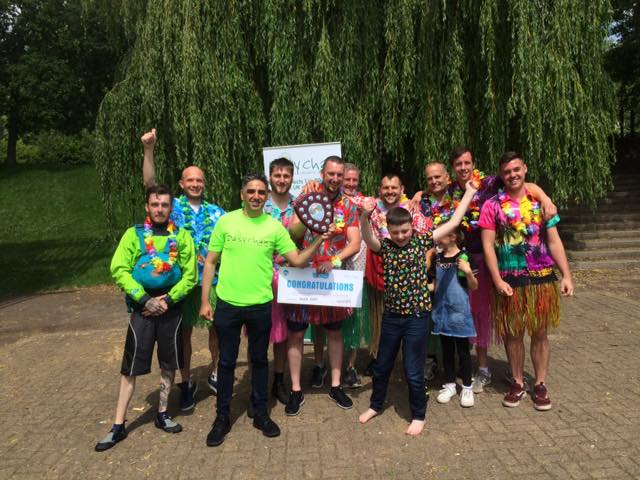 We have had plenty more paddlers taking on the course over the weekend and on our regular Wednesday night sessions as well as our club nights. As well as all of this we have had lots of groups experiencing our most popular activity – white water rafting. On top of this we have had school trips doing a variety of different watersport activities, a visit from Teesside University students, corporate bookings taking on teambuilding and raft building activities, intro courses for kayaking and stand up paddleboarding plus lots of fire and rescue training on the white water course… Pretty busy! Oh and we almost forgot we recently got a new addition to the Tees Barrage family – a cute little cygnet.
But there's no time for relaxing as we still have our busiest period of the year ahead of us and we can't wait! Click here to take a look at what is going on down at Tees Barrage over the summer holidays – there's something for everyone!!!