Newport Bridge Route
This route winds around both banks of the River Tees starting from the Watersports Centre heading down river to Newport bridge on the North bank of the river before crossing at Newport Bridge and heading back to Tees Barrage on the South Bank. The terrain is relatively flat and paved throughout and is both walker and cycle friendly. The route is also away from traffic, except for the Newport Bridge crossing, where you walk/cycle on a paved footpath next to the road.
Start at the TBIWWC main building and head towards the Barrage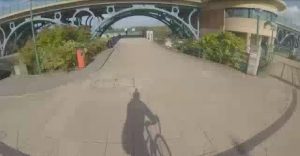 Turn left before crossing the river and pass under the road bridge past the white water course

Stay parallel to the river all the way to Newport Bridge

Newport Bridge is in sight, you're nearly halfway!

Climb the steps up onto Newport Bridge and cross the river along the footpath. Turn right down the steps at the south side of the river and head back to Tees Barrage
On the home straight! Tees Barrage comes back into sight
Go back underneath the road bridge and turn right over the footpath to cross the river
You're back to the car park!
Explore the river between Tees Barrage and the historic Newport Bridge