Things to Do at Tees Barrage
Finding things to do in the North East seems tough. Is there enough there? Can everyone join in? Will we have plenty of stuff around to visit afterwards? These are just a few points we have to consider when finding places to go, but Tees Barrage can help you out.
That's why we've created an adventure hub like no other on the banks of the River Tees in Stockton. Tees Barrage is an outdoor entertainment centre packed with exciting water sports, cycling routes, powerboat trips, wildlife spotting, and even a huge climbing adventure course!
If you're searching for things to do in Teesside, we offer excellent days out for families and friends that all ages will love. Choose what type of outdoor experience you're after and find out what Tees Barrage has in store.
Active outdoor adventure at Tees Barrage
Tees Barrage is a fast-growing watersports and outdoor entertainment place to go in the North East.
Whitewater courses
Tees Barrage is famous for its whitewater facilities and a whitewater rafting session is a great option if you're looking for exciting things to do in the North East. With 300 metres of rapid whitewater and the steepest artificial drop in the UK, you and your team have to navigate sudden dips, crashing waves and sharp turns as you speed around a network of boulder-strewn water!
Trying to stay onboard and as dry as possible is all part of the fun and this is a hilarious day out for friends or family looking for an adrenaline boost. Don't worry, our trained team are here to teach you the basics and kit you out in the gear you need before we launch you out to tackle the currents.
Stand-up paddleboarding
From Hawaii to Australia, stand-up paddleboarding (or SUP) is a huge trend right now — which is why we brought it to the North East. Plus, stand-up paddleboarding is the perfect thing to do in Teesside if you want a fun and exciting watersport with less unexpected twists, turns and drops.
All you do to SUP, is kneel — or stand if you dare — on your board and use your paddle to push yourself across the water at whatever speed you can handle. There's a lot of balancing involved but once you get the hang of it, you get an amazing feeling of floating across water with stand-up paddleboarding. We can't promise you won't hilariously fall off your board at times, but this is an easy-to-pick-up activity that all ages and abilities can get into.
Paddlesports
You can even do kayaking and canoeing at Tees Barrage. The feeling of being in complete control of your own boat, picking the speed and direction you want is incredible. If you fancy trying it for the first time, we have paddlesport courses that you can get involved in to boost your technique and confidence before heading out on your own.
Raft-building
This one will really put your brain and muscles to work. Raft-building at Tees Barrage is all about working together from concept to final inspection. Basically, your group has to design and construct a raft from basic materials before we test your success or failure in a series of challenges. This is one of our most entertaining activities for groups of pals at Tees Barrage, but it also makes a great family day out, too.
Family outdoor adventures at Tees Barrage
Tees Barrage is a top destination for family days out, simply because our activities are both incredibly entertaining and suitable for a huge range of ages and experiences.
Air Trail
Air Trail is the perfect on-land adventure spot at Tees Barrage and a favourite family day out in the North East for many now the word has gotten around. Climb up 4 levels and 18-metres of fun and daring obstacles with more than 30 different challenges to overcome on your way to the top.
Beat Air Trail's mix of
bridges
,
tight ropes
,
cargo nets
,
balancing beams
,
and
stepping stone
s all towering higher and higher above the River Tees. And just when you think it's over, you have a
heart-stopping walk-the-plank challenge
plus a
daredevil zip-wire
to conquer before you can claim to have completed your Air Trail mission. The great thing about Air Trail is not only do you get an exciting day out that both kids and adults will enjoy, but there's also a spot for toddlers if you have very little ones in your family.
Family rafting
Family days out in the North East region don't get much better than family rafting. We've carefully tailored our family rafting sessions to perfectly suit youngsters and adults, so it's the ideal thing to do about Teesside if you want an activity you'll all enjoy.
With family rafting, you get to work together to tackle the rapids, dips and turns to reach the finish line which makes it a proper family day out that doesn't consist of iPads and phones. Yes, this take place on the fast white water course we mentioned earlier, but don't fret. Once you get to Tees Barrage, we'll show you the ropes and give you the kit and equipment you need to make sure the whole family stays safe and has a great time. Plus, you get your own guide in the raft with you!
Bell boating
Bell boating is one of those activities that is really ideal for anyone. What we think makes is ideal for families is the slow and steady pace that lets you take in the sights and paddle along together without any crashing waves or unexpected dips. Bell boats are very similar to a comfy and spacious canoe, and you don't need any experience at all to do it. So, bring kids of all ages along for a fun day together!
Powerboat Trips
If you think your kids would be more up for high speeds and skimming the surface, try a powerboat trip. Our powerboat trips come with your very own expert guide and pilot, who takes you from Tees Barrage, along the River Tees and whizzing by our best landmarks including the mighty Riverside Stadium and the iconic Transporter Bridge. Lucky past families have even spotted seals on their trip, so tell the kids to keep their eyes peeled.
Relaxing outdoor adventure at Tees Barrage
We like to blend our high-speed, adrenaline-fuelled activities with more relaxing outdoor adventures at Tees Barrage. What a lot of people don't know about Tees Barrage, is that we have plenty of free stuff you can enjoy without booking or checking timetables.
Cycling and walking route
We get lots of visitors heading to Tees Barrage because of the stunning walking and cycling routes that pass through and around us. Weaving around our incredible whitewater courses, you can take a few minutes to watch paddlers plunge into the water or stumble off their boards before carrying on your stroll or cycle. Here are a few of our favourite routes:
Cycling and walking routes let you make the most of the peace and relaxation the River Tees delivers. These pathways are peppered with nice spots for picnics, garden games and just watching the world and wildlife go by. Or you can take a turn off en-route for food and drinks in Stockton centre, if you like.
The Barrage Cafe
A true hidden gem at Tees Barrage is The Barrage Cafe. Found on the top floor of our main building, you get incredible views over the River Tees — plus you can see just how high Air Trail really is!
Days out at Tees Barrage are perfectly ended with a hot meal, snack, slice of cake, and hot or cold drink at The Barrage Cafe. It's a great place to wind down and laugh about your rafting or paddleboarding experiences, as well as an ideal spot to sit on the balcony with your dog after a long walk.
Nature reserve
Tees Barrage even has a stunning nature reserve right next door. It's bursting with wildlife like swans, cormorants, salmon, and sometimes seals. If you've really picked a good day to visit us you might even spot dolphins, which have been known to travel to us from the North Sea! What makes this a great nature reserve and a popular place to go in the North East, is the variety of habitats. Here, you walk through woodland areas, along river banks and over grassy spots so you have the chance to see all kinds of creatures.
Portrack Marsh, a wetland nature reserve near our base, is home to everything from mammals and insects to birds and wildflowers. You can also easily reach Maze Park Nature Reserve from Tees Barrage, where you can see more than 12 species of butterfly and rarely-spotted birds — including the skylark and grey partridge.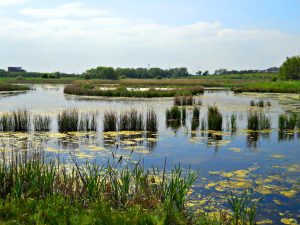 Photography
Whether you're a budding photographer or just want a picturesque place to go in the North East for family snaps, Tees Barrage photography opportunities won't let you down. There are amazing action shots to capture along our whitewater courses, as well as plenty of wildlife all around you to add some stunning photos to your collection. So, pack your camera and combine your relaxing walk with a short photoshoot.
Birthday outdoor adventure at Tees Barrage
If you're on the hunt for the perfect birthday extravaganza and not just looking for a random thing to do in the North East, we might have just what you need. Our 'adventure parties' make the perfect unique treat for your child and their friends no matter what age they're turning. Choose from exciting sessions where they might get soaked — like whitewater rafting, stand-up paddleboarding, kayaking and canoeing — or have them all work together with a raft-building class! Bell boats are perfect for exploring the river, while the towering Air Trail is guaranteed to get all the kids having fun as they make their ways up each level and over every daring challenge.
The best thing about a Tees Barrage birthday is that you can sit back and relax, we'll take care of the kids. Every session comes with a fully-qualified instructor who will tailor the fun and games to suit the age group and number of children. You also get all the equipment, so nothing to buy or remember to bring along, and we can even put on tasty party food for everyone to round off the day!
There are plenty of things to do in Teesside at Tees Barrage. Get info on directions and parking or get in touch if you have any questions.