Young Carers Tackle The Tees
Spirits were high and smiles were in abundance as a group of young carers from Eastern Ravens Trust took part in a full day activity day at the adventure hub Tees Barrage International White Water Centre.
Stockton-on-Tees based charity Eastern Ravens Trust supports young people under the age of 18 who provide regular care to a family member who have a physical or mental illness. Participants are given ongoing care and are given access to a range of activities.
The group of youngsters jumped into their wetsuits and braved the bleak and rather wet start to the day. The first activity was kayaking on the flat water lake at Tees Barrage. Participants made a splash and before long confidence started to grow and the morning showers were a distant memory. Next up on the action packed agenda was a group canoeing trip up the River Tees against the current in order to work up an appetite before returning back for lunch.
After refuelling, the sun started to shine and the young carers took part in water based team building activities and stand up paddleboarding including being the first people to board the centres new giant 18 foot paddle board! The water certainly didn't phase the group with several participants freely taking the plunge. Lastly it was time for a sky high adventure at Air Trail, the high ropes course also located at Tees Barrage where the group conquered wobbly bridges, tight ropes, zip rails and many other challenges up to the height of 18 metres!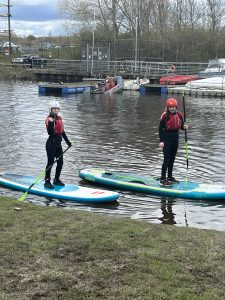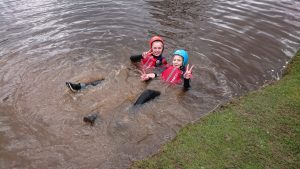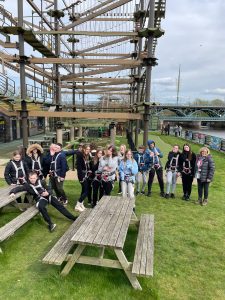 Danielle Rollinson from Eastern Ravens Trust said "The children have absolutely loved it, a lot of them haven't even been out on the River Tees before so for them to be given the chance to take part in these activities is brilliant. At the start of the day the children were a little apprehensive and nervous, but their confidence grew and their social and teambuilding skills developed as the day went on. We couldn't get the children out of the water because they were loving it that much! Overall, it has been a great experience for them and they have enjoyed it so much!
One of the children who participated also added "It has been the best day ever!"
Tees Active's Community Engagement Manager, Allan McDermott said "It was a pleasure to welcome such a lovely group of young people to one of Tees Active's venues and to see the confidence and self-belief grow throughout the day. It is great to see that by working with local charities and community groups like Eastern Ravens Trust, Tees Active are able to provide new and exciting experiences for these young children."
Allan continued "Today's Tackle the Tees project has been made possible with Funding from The UK Youth Fund – Adventures Away From Home which has enabled these young people to have an experience of a lifetime and taught them new skills whilst building their confidence and appreciating the environment and the great outdoors. We have another group from Eastern Ravens Trust who will experience teambuilding, paddleboarding, a river trip on the River Tees and then conquer the heights of Airtrail too."
If a community group or charity that you are associated with is looking to provide activity days please get in touch with Tees Active's Community Engagement Manager, Allan McDermott on [email protected] or 01642 528772.