Maze Park Nature Reserve
If you want to explore the beautiful landscape of the River Tees but you also want to reward your afternoon rambling with exceptional panoramic views across Teesside, then you must explore Maze Park Nature Reserve on the south bank of the River Tees.
This green oasis is just a short walk or bike ride from Tees Barrage and provides some fantastic opportunities to sight some rare and beautiful wildlife. The reserve is a maze of surfaced pathways circling the mound and intertwining the grasslands below, making it the perfect setting to explore. The reserve has attracted more than 12 species of butterfly including the increasingly scarce grayling and dingy skipper and the butterfly theme can be seen along the route in a number of large scale sculptures. The area also enjoys an abundance of herb species including yellow wort, black medick, common centaury and bird's-foot trefoil, and the area also provides an excellent habitat for bird species in national decline such as the grey partridge and skylark.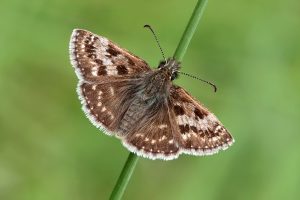 See if you can spot a 'Dingy Skipper'
The Maze Park site was used to deposit the reclaimed substrates and soils from the construction of the Teesdale business park and the landscaping of these waste materials formed the mounds which dominate Maze Park today. The Maze Park Nature Reserve is just a short walk or bike ride from Tees Barrage and must be seen to be fully appreciated.
Check out the video below and step by step guide of the route from Tees Barrage, and be sure to watch the second video of the remarkable views from the top!
Check out the video to soak up the amazing view from the top!
MAZE PARK NATURE RESERVE ROUTE
Head from the main TBIWWC building towards the Barrage and cross to the other side of the river
There are plenty of look out points lining the route
You will find lots of information on the abundance of wildlife
bikes can be locked up to the butterfly-styled metal cycle racks so you can explore the reserve
or you can carry it up if you're feeling strong!
The views are always worth it….wow!